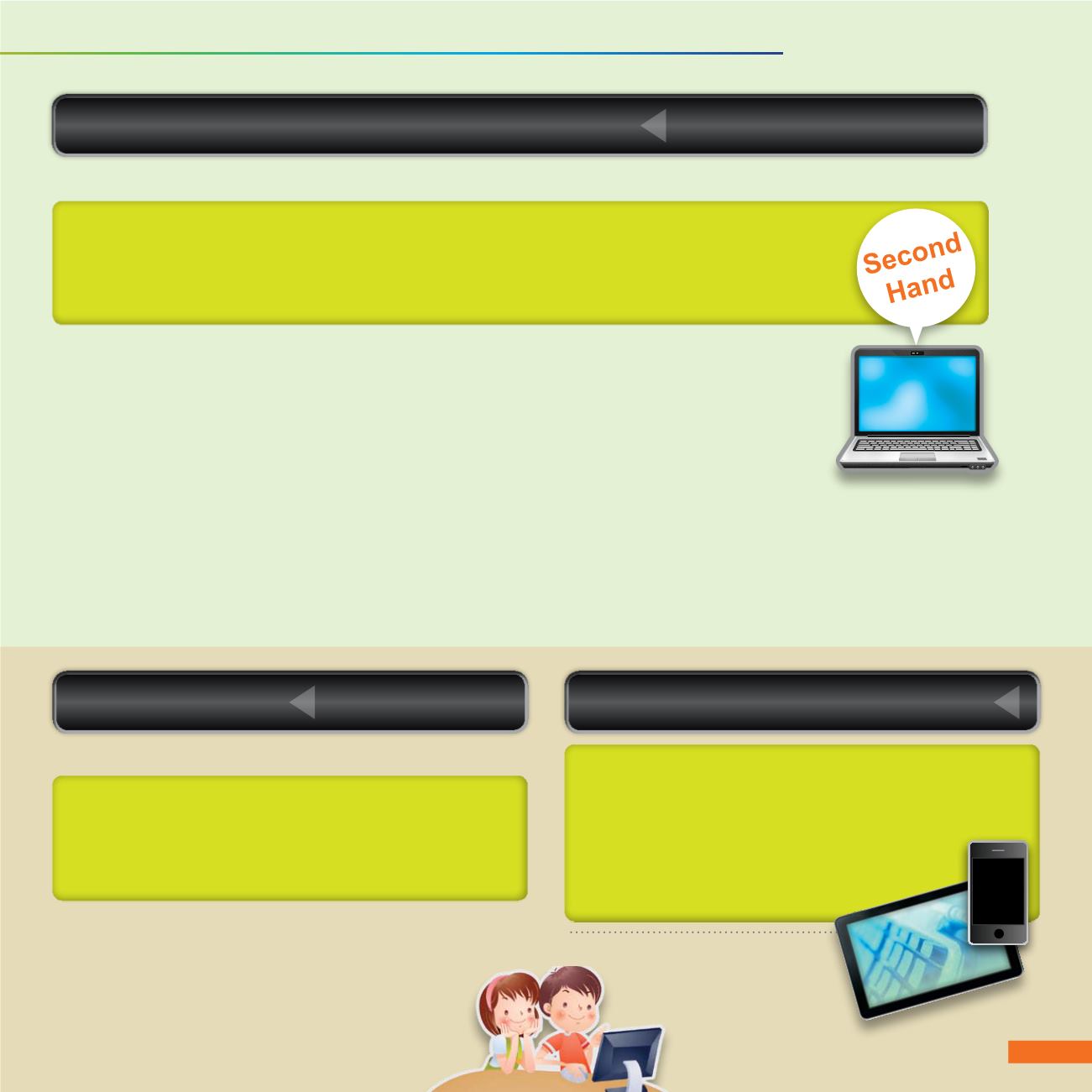 Arrange Equipment for
Repair / Sale / Disposal
Safely
Protect Your
Children
Use Your
Smartphones and Tablets
Safely
Understand what precautions to take before handing over equipment
Teach your children to protect their personal data
●
Discuss with your children how the advice in this booklet can
help them protect their personal data when using the Internet.
Teach them that once their personal data is leaked or
openly shared on the Internet, it may be there for the
rest of their lives.
Children may be less aware of the privacy concerns and
pitfalls of using the Internet and information technology.
They should be educated early in their lives to protect
themselves.
To learnhow toprotect yourself in theuseof smartphones
or tablets, please read the leaflet "Protect Privacy by
Smart Use of Smartphones"
5
. The leaflet provides
guidance on how to protect mobile devices
and data stored in the devices, and how to
use mobile applications safely.
●
You should ensure that you choose a reputable repair provider. You should also check that you are
happy with their pledge on the protection of personal data before entrusting them with the data.
●
If the problem is not related to the removable storage device in your equipment, you should remove
it before sending it for repair. If you must send the storage device away for repair, try to erase all
personal data whenever possible using a secure, permanent method (such as DBAN from www.
dban.org for drives or FileShredder from
www.fileshredder.org
).
●
Similarly, if you are selling or disposing any device that has memory or storage, remember to erase
all the data stored in it. Some device manufacturers (such as those of mobile phones) provide steps
for users to erase all stored data on their phones. These steps should be followed. Also remember to
remove the removable memory cards or old SIM cards installed in these devices, or to erase the data.
Many people may not realise how much personal data they have stored in their computers
or PSDs. As you may not be able to remove the data storage device or erase the data in
such equipment, disposing, selling or sending the equipment to a third party without due
precautionary measures means you may be giving your personal data away.
5.
http://www.pcpd.org.hk/english/publications/
files/smartphones_smart_e.pdf.
Protecting Privacy –
Using Computers and the Internet Wisely
14